Pick an item you want to buy and then choose the amount of change to make the purchase.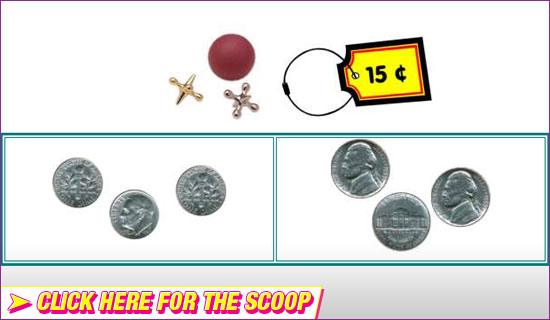 Web Links
Change Game
Get as much money in your piggy bank as possible by figuring out the correct change. This game can be played with money from the United States, Canada, United Kingdom or Australia!
U.S. Mint
An interesting resource for both children and teachers, the site uses games and cartoons to present a variety of numismatic topics including the history of coins, coin collecting, coins of the world, new coins, and the process of minting coins. Resources for teachers include lesson plans, links to information on financial literacy, special projects, and images and information on hundreds of coins from colonial times to the present.
Looking for more information and interactive games on topics covered on our Kid Scoop pages?
← Check out our archives for additional links
| | | | | |
| --- | --- | --- | --- | --- |
| Get answers to activities found on the weekly Kid Scoop pages. | | Kid Scoop's own artist, Jeff Schinkel, shows you how to draw things with step-by-step directions and videos. | | Check out the Jokes! Team up with your child to send in your favorite jokes for possible publication. |
| Some of the weirdest and wildest true facts about animals, people and places in the world. | | If you love to write, you can write on the topic of your choice and send it in to us. | | Experts say that washing your hands for at least 20 seconds is the best way to make sure you remove germs and gunk. |