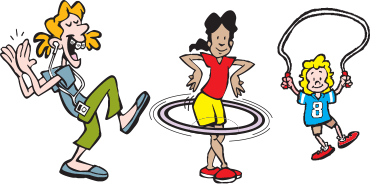 Exercising creates the chemicals "feel good" chemicals in our brain. So, if you are feeling mad, sad, or bad—try going for a walk or turn on some music and dance! Or, go out and play any sport you enjoy.
For more information about taking charge of your feelings visit Kids' Health.
Web Links
Clown Around, Have a Laugh and Move
Feeling bad about something? Try the Kid Scoop Clown Fitness activities!
Learn About Feelings and Emotions
Sometimes we feel happy – eg. when we are having fun playing. Sometimes we feel scared, angry, guilty, lonely or any of a huge range of human emotions. It is important not to be ashamed of having feelings.
Worrying? Afraid?
Have you ever been afraid? Worried? This happens to everyone! Maybe its thunderstorms or an upcoming quiz at school? Find out more about what to do when you feel worried or afraid.
Looking for more information and interactive games on topics covered on our Kid Scoop pages?
← Check out our archives for additional links
| | | | | |
| --- | --- | --- | --- | --- |
| Get answers to activities found on the weekly Kid Scoop pages. | | Kid Scoop's own artist, Jeff Schinkel, shows you how to draw things with step-by-step directions and videos. | | Some of the weirdest and wildest true facts about animals, people and places in the world. |
| Put on your thinking cap and see if you can solve Kid Scoop's brain-bending puzzles. | | If you love to write, you can write on the topic of your choice and send it in to us. | | Experts say that washing your hands for at least 20 seconds is the best way to make sure you remove germs and gunk. |