"Allow me to introduce myself: I'm Vinicius, the mascot for the Rio 2016 Olympic Games. I'm a mix of all of the different animals found in Brazil. I was born out of the explosion of joy that followed the announcement that Rio would host the Olympic Games," said Vinicius.
Vinicius possesses the agility of cat, the balancing skills of a monkey and the grace of a bird. He is capable of stretching out his arms and legs as long as he wants, and he has a heightened sense of smell and hearing.
Learn more about Vinicius and his friend Tom!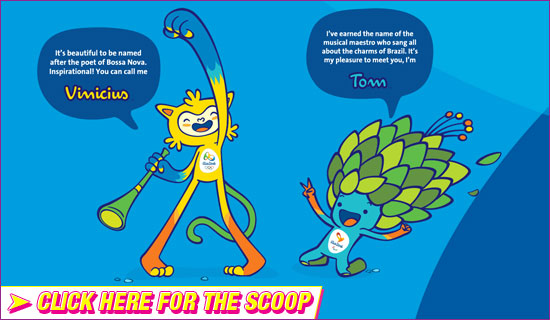 Looking for more information and interactive games on topics covered on our Kid Scoop pages?
← Check out our archives for additional links
| | | | | |
| --- | --- | --- | --- | --- |
| Get answers to activities found on the weekly Kid Scoop pages. | | Kid Scoop's own artist, Jeff Schinkel, shows you how to draw things with step-by-step directions and videos. | | Some of the weirdest and wildest true facts about animals, people and places in the world. |
| Put on your thinking cap and see if you can solve Kid Scoop's brain-bending puzzles. | | If you love to write, you can write on the topic of your choice and send it in to us. | | Experts say that washing your hands for at least 20 seconds is the best way to make sure you remove germs and gunk. |