Zing is on his way to Planet Earth and wants to learn all about this stuff called "money." The games and activities take the player through banks, budgets, savings, checking, cards and loans and there's an assessment at the end.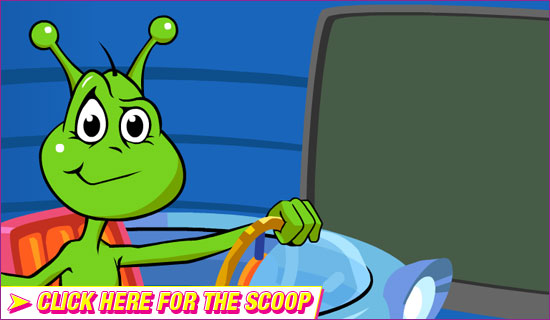 Web Links
Mad Money
Here's a game that shows you how to save up your money for the things you want to buy. Learn through earning, spending and saving to get to the big-ticket item.
Reality Check
Imagine the way you would like to live and the things you would like to own. Now fill out the form to discover what your dream life will cost.
Celebrity Calamity
This game helps players learn about debit and credit cards as you make choices as a celebrity.
Looking for more information and interactive games on topics covered on our Kid Scoop pages?
← Check out our archives for additional links
| | | | | |
| --- | --- | --- | --- | --- |
| Get answers to activities found on the weekly Kid Scoop pages. | | Kid Scoop's own artist, Jeff Schinkel, shows you how to draw things with step-by-step directions and videos. | | Check out the Jokes! Team up with your child to send in your favorite jokes for possible publication. |
| Some of the weirdest and wildest true facts about animals, people and places in the world. | | If you love to write, you can write on the topic of your choice and send it in to us. | | Experts say that washing your hands for at least 20 seconds is the best way to make sure you remove germs and gunk. |