From Hanukkah (Chanukah) basics to kosher recipes and including interactive games, videos and activities, this site has everything you need to celebrate Hanukkah.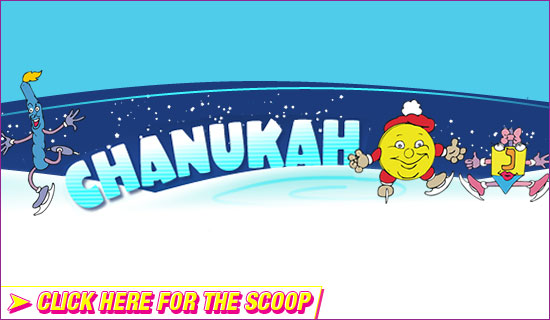 Web Links
Dreidel Spin
Here's a explanation of the symbols on a dreidel and an interactive game where you spin the dreidel.
Hanukkah Lights Coloring
Color the Hanukkah menorah, save your picture and then send it to your friends as a Hanukkah greeting.
Looking for more information and interactive games on topics covered on our Kid Scoop pages?
← Check out our archives for additional links
| | | | | |
| --- | --- | --- | --- | --- |
| Get answers to activities found on the weekly Kid Scoop pages. | | Kid Scoop's own artist, Jeff Schinkel, shows you how to draw things with step-by-step directions and videos. | | Check out the Jokes! Team up with your child to send in your favorite jokes for possible publication. |
| Some of the weirdest and wildest true facts about animals, people and places in the world. | | If you love to write, you can write on the topic of your choice and send it in to us. | | Experts say that washing your hands for at least 20 seconds is the best way to make sure you remove germs and gunk. |