When you watch Major League Baseball, you're seeing STEM in action. The science of aerodynamics is in every pitch. Engineering is part of every bat, ball, glove and helmet. And the math of statistics can inform a team's strategy.
When a center fielder throws the ball 200 feet to get a runner out at second, what's the best angle for the throw? Find out the answer to this and more at the STEM Zone!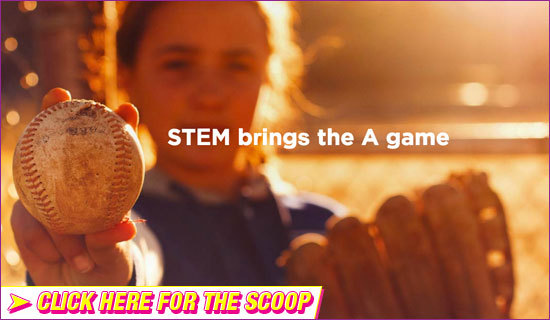 Web Links
Math Baseball
Enter the answer to a math problem and hit the "Swing" button. If the answer is correct, you get a hit!
More Baseball Fun From Kid Scoop
Score a home run with this activity booklet focused on America's favorite pastime—baseball!
The Science of Baseball
Batter Up! It's time to step into the box, take a few practice swings and gear up for a big hit. This Kid Scoop activity booklet shines the spotlight on the physics behind baseball from the aerodynamics of a perfect pitch to best place to connect on a bat. Speed, spin, lift, gravity and drop all combine to make that 100-mile-per-hour pitch so tricky to hit.
Looking for more information and interactive games on topics covered on our Kid Scoop pages?
← Check out our archives for additional links
| | | | | |
| --- | --- | --- | --- | --- |
| Get answers to activities found on the weekly Kid Scoop pages. | | Kid Scoop's own artist, Jeff Schinkel, shows you how to draw things with step-by-step directions and videos. | | Some of the weirdest and wildest true facts about animals, people and places in the world. |
| Put on your thinking cap and see if you can solve Kid Scoop's brain-bending puzzles. | | If you love to write, you can write on the topic of your choice and send it in to us. | | Experts say that washing your hands for at least 20 seconds is the best way to make sure you remove germs and gunk. |