Learn how to make an Egyptian mummy and help to prepare a pharaoh for his tomb.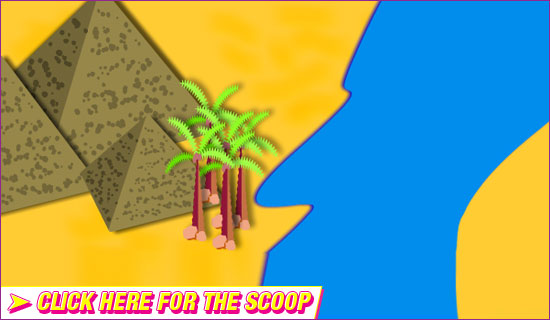 Web Links
Ancient Egypt: The Magic Lesson
Investigate an Egyptian tomb by the River Nile. Learn about the gods and goddesses, the hieroglyphics, the pyramids and the mummies.
Science and Technology
The Museum of Science in Boston explains the science and technology of mummification. The 3-D section allows you to look at the details of a mummy. The museum was able to put a mummy through a scanner revealing what was inside. And with all their technologies, they were able to discover that the male mummy was probably a scribe. There's lots more scientific facts about ancient Egypt on this site.
Looking for more information and interactive games on topics covered on our Kid Scoop pages?
← Check out our archives for additional links
| | | | | |
| --- | --- | --- | --- | --- |
| Get answers to activities found on the weekly Kid Scoop pages. | | Kid Scoop's own artist, Jeff Schinkel, shows you how to draw things with step-by-step directions and videos. | | Check out the Jokes! Team up with your child to send in your favorite jokes for possible publication. |
| Some of the weirdest and wildest true facts about animals, people and places in the world. | | If you love to write, you can write on the topic of your choice and send it in to us. | | Experts say that washing your hands for at least 20 seconds is the best way to make sure you remove germs and gunk. |