The Official National Computer has crashed and needs help to restore the Bill of Rights. Your mission is to rebuild the documents by finding the missing rights and freedoms in Freeville.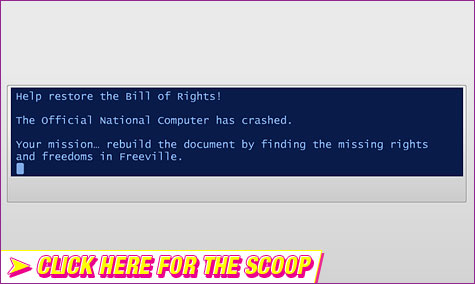 Web Links
Which Founder are You?
The U.S. Constitution was written in 1787 by a group of 55 men with one purpose and many different personalities. Discover which Founding Father you're most like.
Name That Founding Father
Play a game where you try to identify four famous founding fathers based on clues from history.
Looking for more information and interactive games on topics covered on our Kid Scoop pages?
← Check out our archives for additional links
| | | | | |
| --- | --- | --- | --- | --- |
| Get answers to activities found on the weekly Kid Scoop pages. | | Kid Scoop's own artist, Jeff Schinkel, shows you how to draw things with step-by-step directions and videos. | | Check out the Jokes! Team up with your child to send in your favorite jokes for possible publication. |
| Some of the weirdest and wildest true facts about animals, people and places in the world. | | If you love to write, you can write on the topic of your choice and send it in to us. | | Experts say that washing your hands for at least 20 seconds is the best way to make sure you remove germs and gunk. |