The world outside the ant colony is rumored to have plentiful food. Figure out the best angle to launch the hero ant on the leaf sling so he will travel as far as possible.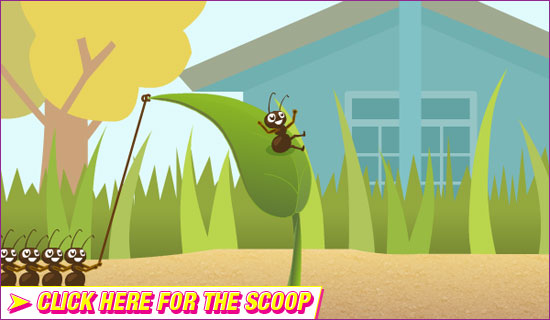 Web Links
Amazing Ant Facts
This video lays out some interesting facts about ants—perfect for a first lesson.
Ted Ed on Ants
This video is for older students laying out the complex social organizations of ant colonies where different types of ants play different roles. This is all shown in cartoon form.
Critter Catalog
If you really want to get the complete picture, this is a very detailed site that will tell you all about ants.
Looking for more information and interactive games on topics covered on our Kid Scoop pages?
← Check out our archives for additional links
| | | | | |
| --- | --- | --- | --- | --- |
| Get answers to activities found on the weekly Kid Scoop pages. | | Kid Scoop's own artist, Jeff Schinkel, shows you how to draw things with step-by-step directions and videos. | | Check out the Jokes! Team up with your child to send in your favorite jokes for possible publication. |
| Some of the weirdest and wildest true facts about animals, people and places in the world. | | If you love to write, you can write on the topic of your choice and send it in to us. | | Experts say that washing your hands for at least 20 seconds is the best way to make sure you remove germs and gunk. |