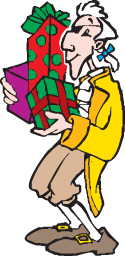 All year long you can invite your students to open the gift that keeps on giving—the newspaper! By using the newspaper to teach and reinforce basic academic skills, you also instill a reading habit that will provide a lifetime of reading and enjoyment.
Holiday Traditions
Find and read two articles in the newspaper that tell ways in which a winter holiday is celebrated. Have students write a report on how they celebrate a winter holiday and compare their celebrations to those in the two articles.
Tall, Taller and Tallest
Ask your students to find five or more pictures of Christmas trees in the newspaper. Cut them out and glue them onto a piece of paper in order from shortest to tallest. Measure each tree's height and calculate the difference between each of the trees.
Make a list of facts and opinions of each tree.