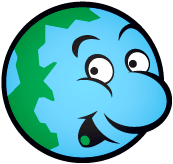 This year, Earth Day falls on April 22. With global climate change and extreme weather so much in the news, the newspaper is a great starting place for students to gain the knowledge needed to be guardians of the Earth.
Being Green
Students can do many things to help the Earth be healthier, cleaner and greener. Encourage your students to care for the Earth by saving energy and resources such as water. Use the newspaper as a resource to help your students make a list of ways they can help – remember that little things can make a substantial difference when collected together.
Local Levels
Discuss with your students the natural resources that are abundant in your area. Look through the newspaper to find articles and ads related to these resources. Are there shortages or surpluses of these materials? How will their supply affect the economy of the area? Will that directly impact the students?