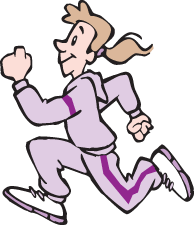 Eating right is part of a healthy lifestyle but exercise is important too. Newspapers can be used to promote physical fitness.
Lay a sheet of newspaper on the ground. See how many times students can hop over the paper without touching it.
Roll up a newspaper and tape it so that it becomes a long paper bat. Crumple up more newspaper and tape it to make a newspaper ball. Pair up students for a pitching and batting game.
Bring sports photos to life. Have students select an action photo from the newspaper and then act out what happened before the picture was taken and what happened after the picture was taken.
Have your students look through the newspaper and find examples of people using physical energy and other pictures of people using mental energy. Ask which is more tiring? Discuss if exercise helps people focus their mental energy.
| | | | | |
| --- | --- | --- | --- | --- |
| Here's a look at upcoming topics Kid Scoop will feature in the weeks and months ahead. | | Each week, Kid Scoop provides a writing prompt on the page called Write ON! Find out about upcoming topics and guidelines for submissions. | | Kid Scoop provides teachers with a highly motivating standards-based teaching tool to give students a boost in their reading skills. |
| The Common Core State Standards provide a consistent, clear understanding of what students are expected to learn. | | Each month, this newsletter lets teachers know what's coming up on Kid Scoop and has ideas for using newspapers in class. | | The student magazine and teacher guide available here for FREE teach science in a new and engaging way. |