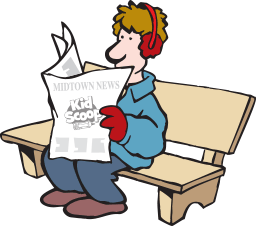 Resolution means something decided upon with firmness of purpose. With the newspaper in hand, encourage your students to resolve to become better readers in the coming year.
Make reading enjoyable with word games, creative assignments and treasure hunts using the newspaper.
Reading Comprehension
Using the newspaper, have your students read about an entertainment event planned for your community.
For each event chosen by a student, have them write out a list of adjectives that might describe the event.
Have them then compare the event to an event they have attended—in what ways are they the same?
Have them contrast the event with another event—in what ways are they different?
Have them predict what might happen at this event.
Have them evaluate how the event will be received and check back with the newspaper to see if it is reviewed.
Have them summarize aspects of the event.
| | | | | |
| --- | --- | --- | --- | --- |
| Here's a look at upcoming topics Kid Scoop will feature in the weeks and months ahead. | | Each week, Kid Scoop provides a writing prompt on the page called Write ON! Find out about upcoming topics and guidelines for submissions. | | Kid Scoop provides teachers with a highly motivating standards-based teaching tool to give students a boost in their reading skills. |
| The Common Core State Standards provide a consistent, clear understanding of what students are expected to learn. | | Each month, this newsletter lets teachers know what's coming up on Kid Scoop and has ideas for using newspapers in class. | | The student magazine and teacher guide available here for FREE teach science in a new and engaging way. |