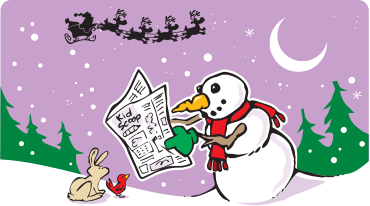 Imagine a gift that lasts the whole year. It helps your children learn the skills of reading, writing, STEM and arithmetic. Where can you find this special gift? Just open up your local newspaper.
Holiday Shopping
Have your students choose a character from a book you're studying. Let them each imagine that they are this character who then goes on a holiday shopping spree with the newspaper. For an extra challenge, give students a budget to work within.
Snowflakes
After your students have finished reading the newspaper, have them cut out squares of paper. Fold each square over twice and cut out patterns to make snowflakes. Now decorate your classroom with the class snowflakes.
| | | | | |
| --- | --- | --- | --- | --- |
| Here's a look at upcoming topics Kid Scoop will feature in the weeks and months ahead. | | Each week, Kid Scoop provides a writing prompt on the page called Write ON! Find out about upcoming topics and guidelines for submissions. | | Kid Scoop provides teachers with a highly motivating standards-based teaching tool to give students a boost in their reading skills. |
| The Common Core State Standards provide a consistent, clear understanding of what students are expected to learn. | | Each month, this newsletter lets teachers know what's coming up on Kid Scoop and has ideas for using newspapers in class. | | The student magazine and teacher guide available here for FREE teach science in a new and engaging way. |