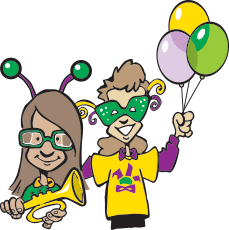 During February we celebrate many events including the birthdays of two presidents, Mardi Gras and Valentine's Day. Did you know February is also Black History Month, Library Lover's Month, Dental Health Month, Healthy Heart Month and National Snack Month? Use the newspaper in your classroom to help your students be aware of events in your community and at the same time, reinforce basic academic skills.
Library Lovers
Have each student select his or her favorite book and write a book review saying why this is their choice.
Snack Month
Using the ad section of the newspaper, have each student select his or her favorite snack. Take a survey to see which snack is the most popular among your students. Have students make a chart or graph illustrating their findings. What percentage of the snacks they chose are healthy?
| | | | | |
| --- | --- | --- | --- | --- |
| Here's a look at upcoming topics Kid Scoop will feature in the weeks and months ahead. | | Each week, Kid Scoop provides a writing prompt on the page called Write ON! Find out about upcoming topics and guidelines for submissions. | | Kid Scoop provides teachers with a highly motivating standards-based teaching tool to give students a boost in their reading skills. |
| The Common Core State Standards provide a consistent, clear understanding of what students are expected to learn. | | Each month, this newsletter lets teachers know what's coming up on Kid Scoop and has ideas for using newspapers in class. | | The student magazine and teacher guide available here for FREE teach science in a new and engaging way. |