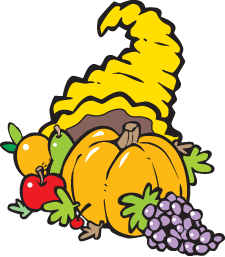 A cornucopia is a symbol of abundance and usually shown as a horn filled to the brim with fruits and vegetables. Like cornucopias, newspapers are filled to the brim with learning opportunities for students.
Thank You
Using pictures and words from the newspaper, have students clip seven examples of things he or she is thankful for. Draw or trace a cornucopia on a piece of paper. Have students glue their examples in the cornucopia—as an added challenge they can place them in ABC order.
Community Heroes
Every day, people in your community do things that help others. Have your students look through the newspaper to identify as many community heroes as possible. Ask them to cut out pictures and headlines about these heroes. Paste on to a poster, decorate it and add the heading "THANK YOU." Display your "Heroes" posters.
| | | | | |
| --- | --- | --- | --- | --- |
| Here's a look at upcoming topics Kid Scoop will feature in the weeks and months ahead. | | Each week, Kid Scoop provides a writing prompt on the page called Write ON! Find out about upcoming topics and guidelines for submissions. | | Kid Scoop provides teachers with a highly motivating standards-based teaching tool to give students a boost in their reading skills. |
| The Common Core State Standards provide a consistent, clear understanding of what students are expected to learn. | | Each month, this newsletter lets teachers know what's coming up on Kid Scoop and has ideas for using newspapers in class. | | The student magazine and teacher guide available here for FREE teach science in a new and engaging way. |