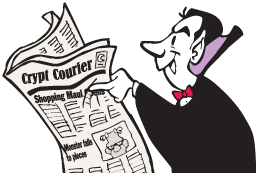 Join the Halloween celebration and enjoy some monstrous learning with the newspaper.
Haunted House
Have your students imagine that they have to overcome obstacles to get out of a haunted mansion. Brainstorm with your class what those obstacles might be. Is there a slippery, slimy hallway, a dragon in the kitchen, a vampire hanging from the ceiling in the entryway, collapsing stairs or more? Have your students work in teams to find items in the classified ad section of the newspaper to overcome each obstacle. Encourage creative explanations of how each item works to banish the obstacle.
Make a Word Worm
Have your students cut headlines from the newspaper and then paste them together to make the longest "worm" possible. Each time they paste a new word, its first letter must match the last letter of the previous word. For example: worm – mate – east – tide.
| | | | | |
| --- | --- | --- | --- | --- |
| Here's a look at upcoming topics Kid Scoop will feature in the weeks and months ahead. | | Each week, Kid Scoop provides a writing prompt on the page called Write ON! Find out about upcoming topics and guidelines for submissions. | | Kid Scoop provides teachers with a highly motivating standards-based teaching tool to give students a boost in their reading skills. |
| The Common Core State Standards provide a consistent, clear understanding of what students are expected to learn. | | Each month, this newsletter lets teachers know what's coming up on Kid Scoop and has ideas for using newspapers in class. | | The student magazine and teacher guide available here for FREE teach science in a new and engaging way. |