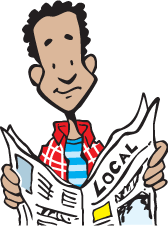 Values are basic beliefs or standards which we all live by. Our newspapers demonstrate the shared values of the community. Help your students find examples of shared values in your community newspaper.
Conflict in the News
Ask students to find an example of conflict in the newspaper. Are the people in the conflict saying and doing things that are fair or not fair? Have students write a letter to the editor with resolution ideas for the people involved in the conflict.
Common Ground
Finding ways that groups of people are the same often helps them find a resolution to their conflict. Find an example of a conflict in the newspaper. Ask your students to make a list of the ways people on both sides of the conflict are the same. How could these similarities help them to find a resolution to the conflict?
| | | | | |
| --- | --- | --- | --- | --- |
| Here's a look at upcoming topics Kid Scoop will feature in the weeks and months ahead. | | Each week, Kid Scoop provides a writing prompt on the page called Write ON! Find out about upcoming topics and guidelines for submissions. | | Kid Scoop provides teachers with a highly motivating standards-based teaching tool to give students a boost in their reading skills. |
| The Common Core State Standards provide a consistent, clear understanding of what students are expected to learn. | | Each month, this newsletter lets teachers know what's coming up on Kid Scoop and has ideas for using newspapers in class. | | The student magazine and teacher guide available here for FREE teach science in a new and engaging way. |