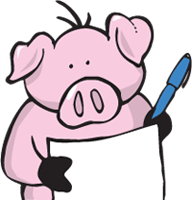 Here's some ways to light a fire and inspire your creative writers. Use the newspaper to help your students find themes, vocabulary, imagination, humor and use them in their writing.
Create a Story
Ask your students to select pictures of two different people from the newspaper. Then they should make up first and last names for each one. Have them create a way for the people to know each other. Describe their relationship. What are the best qualities of each character? Write a quotation for each character. Then they should use this information to write a story.
Verbs that Rock
Some verbs are vigorous and some are "ho-hum." Let your students look through the newspaper for verbs that add a lot of action to a sentence. Then they should look through the newspaper for "ho-hum" verbs. Replace the "ho-hum" verbs with vigorous verbs. Discuss the difference it makes to the sentence.
| | | | | |
| --- | --- | --- | --- | --- |
| Here's a look at upcoming topics Kid Scoop will feature in the weeks and months ahead. | | Each week, Kid Scoop provides a writing prompt on the page called Write ON! Find out about upcoming topics and guidelines for submissions. | | Kid Scoop provides teachers with a highly motivating standards-based teaching tool to give students a boost in their reading skills. |
| The Common Core State Standards provide a consistent, clear understanding of what students are expected to learn. | | Each month, this newsletter lets teachers know what's coming up on Kid Scoop and has ideas for using newspapers in class. | | The student magazine and teacher guide available here for FREE teach science in a new and engaging way. |