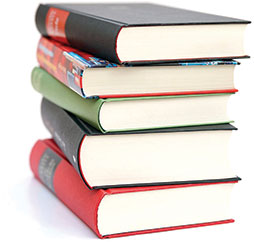 READ TOGETHER
Choose a book to read together. By reading it together, you have the opportunity to explain more complicated words and expand your child's reading vocabulary. Or just start a conversation around the topic.
BOOKS EVERYWHERE
Put books everywhere! If there's a book on the coffee table, by the dining table, by the bed and in the bathroom, then you provide the temptation for your child to pick them up. Remember to include magazines and Kid Scoop!
BOOKS OF MOVIES
So many children's books are made into movies. Talk about this with your child. Make it a rule to always read the book when you see a movie and take the time to discuss the differences.
LIBRARY CARDS
Your local library is a huge resource for children. From author visits and events to storytelling hours. Sign them up for a library card and show them all the different sections of the children's library.
START YOUR OWN LIBRARY
Make a special place in your child's room for them to store their books. They will love collecting them and perhaps will start their own book lending club with their friends.
| | | | | |
| --- | --- | --- | --- | --- |
| Looking for a cool project? Try one of these fun and imaginative craft ideas. | | From recipes you and your child can prepare together to great seasonal craft ideas. | | Try these learning games with your child. Remember when parents and children read together, everyone is a winner! |